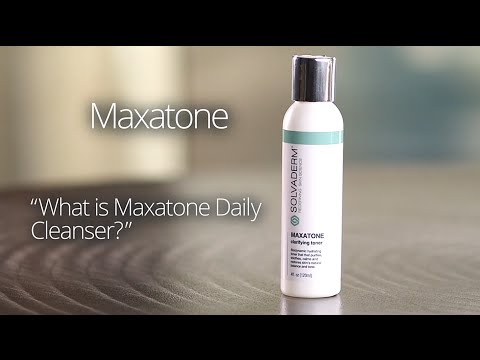 Revolutionizing
Cosmetic Dermatology
Discover Solvaderm's Professional Strength Products For Healthier And More Beautiful Skin.
Maxatone is a gentle, yet effective, daily facial toner that purifies, corrects, and rehydrates the skin. It is appropriate for all skin types and is ideal for those who are prone to acne and/or oily complexions. Maxatone's advanced formula contains botanical astringents and antiseptics that work together to deeply cleanse your skin, tighten your pores, and fight against blemishes, blackheads, and whiteheads, all without over-drying your skin or making it feel parched. Based on cutting-edge dermatological science, the formula also includes plant-based extracts that soothe inflammation and reduce redness, as well as rich conditioners that help seal in moisture, giving your skin a soft feel and youthful appearance.
Usage
After cleansing, pat the skin dry and apply Maxatone with a fresh cotton pad. Use on the face, neck and chest area twice a day as part of your regular skincare routine.
Ingredients
Witch Hazel Extract: a natural astringent, Witch Hazel helps to draw out impurities from the pores, reducing the risk of acne breakouts. With the ability to regulate the skin's oil production, it keeps the complexion balanced and free from excess greasiness.
Yarrow Extract: aside from its skin toning properties, this ingredient helps fight blemish-causing bacteria to keep the complexion clear and radiant.
Hyaluronic Acid: best known as an intensely hydrating ingredient, Hyaluronic Acid plumps the skin to create a smooth, youthfully line-free texture.
Comfrey Leaf Extract: it has natural anti-inflammatory and astringent properties that work to calm irritation, minimize pore size and clarify the skin.
Licorice Root Extract: soothes irritation and alleviates redness, making it ideal for overly sensitive skin types, while its rich antioxidant content protects against free radical damage.
Lemon Peel Extract: reduces the appearance of large pores and helps to lighten areas of hyperpigmentation.
Sage Leaf Extract: improves your skin's overall radiance and promotes the circulation for a healthy glow.
Lavender Extract: a natural anti-inflammatory, this botanical soothes irritation and hydrates dry, flaky skin.
Horsetail Extract: supports the production of vital skin proteins, decreases inflammation and enhances softness.
Benefits
Draws out impurities to reduce breakouts and skin infections
Contains powerful anti-inflammatories that soothe irritation and calm redness
Hydrates the skin, boosting moisture levels and eliminating dryness
Regulates oil production to keep skin balanced, clear and evenly toned
Contains gentle yet effective astringents that won't leave the skin feeling tight
Protects from free radical damage with powerful antioxidants
Is hypoallergenic and suitable for all skin types
The FDA has not evaluated these statements and this product is not intended to cure or prevent any specific skin condition. Remember to read our labels and ingredient lists carefully and always follow the directions for application. If you have a history of skin allergies, a skin patch test is recommended before use. Avoid ingredients that are known to trigger an allergic reaction and discontinue use immediately should a reaction occur.