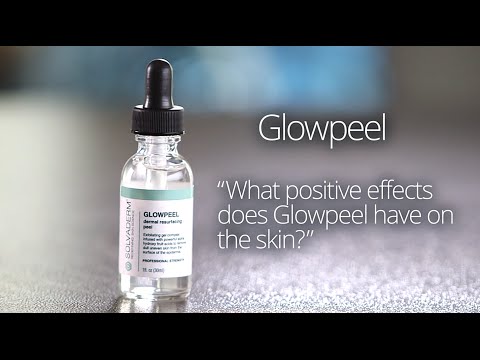 Revolutionizing
Cosmetic Dermatology
Discover Solvaderm's Professional Strength Products For Healthier And More Beautiful Skin.
Glowpeel is a powerful, yet gentle, skin-perfecting serum that removes dull, uneven skin cells from the surface of your face to refresh and rejuvenate your complexion. Its scientifically developed formula contains a powerhouse combination of alpha-hydroxy fruit acids that exfoliate your skin without causing pain or irritation, bringing fresh, nourished cells to the surface to give your face a healthier, more youthful texture and glow. As Glowpeel brightens your face, it also lightens hyperpigmented areas such as age spots, scars, and blemishes, giving your complexion a more even tone. Overall, this serum works to make your face appear radiantly ageless.
Usage
After cleansing, apply a thin layer of Glowpeel over the entire face and neck area, avoiding the eyes and mouth. Leave on for 1-3 minutes and rinse with cool water. Glowpeel can be used 3 to 5 times per week as needed.
Ingredients
Glycolic Acid: eliminates dead skin cells, promotes cell regeneration and encourages the production of skin firming collagen.
Lactic Acid: enhances the effects of Glycolic Acid while improving skin softness and suppleness.
Pyruvic Acid: boosts the skin texture, giving it a radiant brightness with a clearer, more even tone.
Kojic Acid: inhibits the production of the skin pigment melanin, reducing the appearance of discoloration and preventing any further development.
Benefits
Promotes skin cell renewal, repair and regeneration
Resurfaces the skin for a smoother, evenly textured appearance
Encourages the production of essential skin proteins for improved elasticity and firmness
Uses non-irritating, natural exfoliating fruit acids that won't over-dry the skin
Reduces the development of hyperpigmentation so skin remains clear and even toned
The FDA has not evaluated these statements and this product is not intended to cure or prevent any specific skin condition. Remember to read our labels and ingredient lists carefully and always follow the directions for application. If you have a history of skin allergies, a skin patch test is recommended before use. Avoid ingredients that are known to trigger an allergic reaction and discontinue use immediately should a reaction occur.